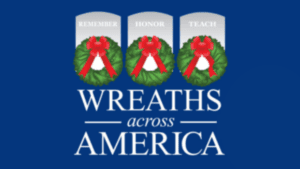 Wreaths Across America is a worldwide tribute to honor and remember the veterans whose sacrifices afford us the freedoms we enjoy on a daily basis.  
In 2022, Wreaths Across America and its national network of volunteers laid over 2 million memorial wreaths at over 3,400 locations in the United States and beyond, including ceremonies at the Pearl Harbor Memorial, as well as Bunker Hill, Valley Forge and the sites of the September 11 tragedies.  This was accomplished with help from thousands of fundraising groups, corporate contributions, and donations of trucking, shipping, and thousands of helping hands.  
St. John Catholic Cemetery is honored to be recognized as an official location of this amazing movement for the past six years.  
All are welcome to join us this year on National Wreaths Across America Day on Saturday, December 16, 2023 for our seventh annual Wreaths Across America opening ceremony at noon, and to help place wreaths on veterans' graves in St. John Catholic Cemetery immediately following the opening ceremony.   
Please visit our fundraising group page on the Wreaths Across America's website at the link below to learn more about this program, how to sponsor a veteran's wreath and volunteer opportunities.
https://www.wreathsacrossamerica.org/pages/47122/Overview/?relatedId=0