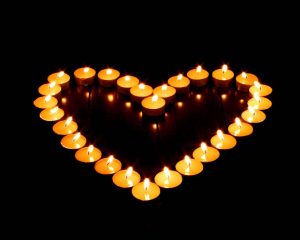 If you or a loved one has suffered a miscarriage, a stillbirth, or the loss of an infant, please join us for Lights of Love, a pregnancy and infant loss remembrance service. The event will be celebrated at 7pm on Saturday, October 13th at St. John Catholic Cemetery, located at 403 E. South Street in Jackson. Bring lawn chairs for seating as the service will be held outside on the lawn behind the cemetery's office building. In the event of inclement weather, the service will be moved inside to the cemetery's chapel.
Please help yourself to a  vigil candle, luminary bag, and votive light. A welcoming will be followed by the opportunity to share memories of your baby, or your baby's name, in a very relaxed setting. Feel free to come up to the podium , or if you feel more comfortable sharing from your chair, please do so. Weather permitting, we will release sky lanterns in the parking lot after a special blessing. Refreshments will be served during the service.
We invite you to return to the cemetery's  pregnancy and infant loss memorial tree and bench located behind the office building at any time. It is our hope that this tree and bench area will provide a  space for you to come and grieve, heal, and to remember your baby.
For Any Questions, Contact the Cemetery Office: (517) 783-1728 or jenny@saintjohnjackson.org