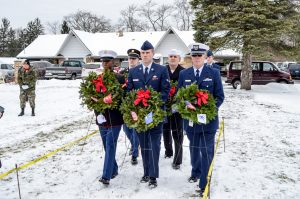 JACKSON, MI – Keely Zimmerman won't let the memory of her friend Sgt. Matthew Soper fade away.
When the Jackson resident heard about "Wreaths Across America," she knew she wanted to get involved.
Wreaths Across America began in 1992 when Maine resident Morrill Worcester laid surplus wreaths from his family wreath company on graves in Arlington National Cemetery.
More than 20 years later, Wreaths Across America volunteers decorate service members' graves across the United States every year.
However, no cemeteries in the Jackson-area hosted a Wreaths Across America event — until Zimmerman took action.
Zimmerman reached out to St. John's Catholic Cemetery, which began organizing a Wreaths Across America event of its own, she said.
At noon on Saturday, Dec. 16, people will place wreaths on the graves of the more than 2,100 service members buried in the cemetery at 403 E. South St.
This includes the grave of Soper, a Jackson native.
Soper was killed in June 2007 while serving in Iraq with Jackson-based 461st Transportation Company. He was 25.
Zimmerman grew up with Soper. She met him in the fourth grade and graduated from Lumen Christi High School with him.
The wreath ceremony is a way for her to continue Soper's legacy and honor all of those who served, she said.
"It's for all these servicemen who fought to protect what we have," Zimmerman said. "Through an unfortunate situation, I learned I'm super passionate about continuing to make sure their legacy doesn't die just because they aren't here anymore."
The ceremony is one of more than 1,2000 ceremonies that will take place on Dec. 16 in cemeteries across the country.
St. John's Cemetery has already purchased the 2,100 wreaths, thanks to donations from the community, said Jenny Mietelka, the cemetery's family services representative.
Volunteers are still needed to help lay the wreaths the day of the event, Mietelka said.
Click here to learn how to sign up to volunteer.
Original MLive Article, 'Wreaths Across America' decorates graves of Jackson's fallen service members by Andrew Surma